Sorry I have been MIA for the last couple of days. I am barley hanging in there. Whew! We have a week and a day before Spring Break with conferences thrown in there. (Do you see my happy dance? Oh I'm doing it!) I think no matter how much we love our kiddos, I don't know any teacher that isn't ready for a break right about now. In the mean time, we have been working really hard on finishing up this fossil unit. (Take a closer look at my TpTstore.)
Last week we also made these adorable leprechauns from A Cupcake for the Teacher. (Doesn't she make wonderful craftivities? I love her stuff.) When I was explaining the directions to the activity, one of my kids launched into this story about how he made leprechaun traps in kindergarten. He also described all the crazy things the leprechaun did to his class. Like tip over desks, put things in the wrong place, and generally cause chaos in the classroom. How adorable is that?
Today we made these umbrellas and a spring poem in honor of the 1st day of spring. It sure didn't feel like spring today! It has rained almost 2 inches in the last 48 hours. (Yikes!) I am just happy that is not snow.
I am just now realizing how long this post is. If you are still with me, I would love to tell you about this linky party that Christina at Bunting, Books, and Bainbridge is hosting.
All you have to do it talk about your favorite blog. (I think this is a great idea.) It was really hard to only pick 1 blog.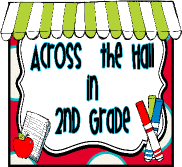 I love the ladies from Across the Hall in 2nd Grade. They share wonderful ideas and the reading comprehension packet is perfect for helping your kiddos with their comprehension.
Also, I have this little springtime craftivity for you! All you have to do is follow my blog and leave me a comment. (Don't forget to include your email.)